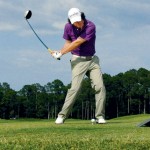 Audience: Health care providers, fitness professionals and golf professionals.
I am part of the teaching team on an upcoming course put on by MSK-Plus in Toronto.
Details of the course can be seen here:
Part of my MSc and my later biomechanics work looked at the swing angles of the pelvis and thorax during the golf swing.  This area will be covered in detail as well as the relationship between physical function and injury and details on designing golf conditioning programs.
All the best,
Greg